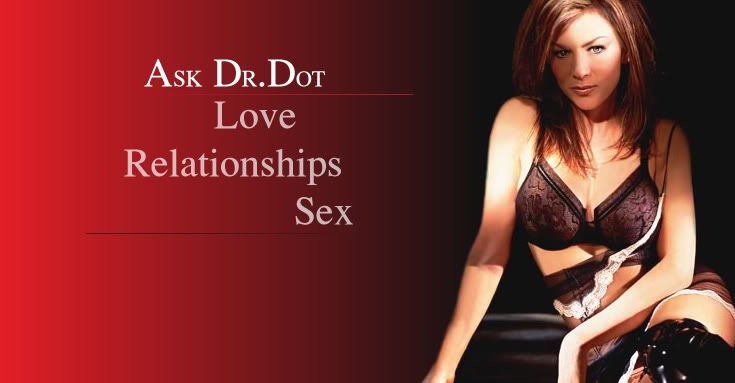 Free Love, Sex and Relationship advice: drdot@drdot.com

 Q.
Recently I started dating this guy, 26 years old. I am a 28. When we first met, I had been going to his place as I paid him to fix my lap top. I thought that he was gay, because of his mannerisms. He acts and talks very feminine. However, he hit on me and I was surprised but flattered as he is very handsome. I flat out asked him "aren't you gay?". He hesitantly said, "no". Then I asked if he was bisexual and he said "not really". I said "What? Have you ever made out with a man?" and then he told me "yes once or twice". I don't understand this. How can one not know if they are gay or not? Making out with a man, if you're a man, is gay. He says he doesn't like to be labeled, but I need to know. How can I handle this without scaring him off? He has a HUGE fat cock, which I sucked once already (loves it!) but I am wondering, has it been in a few men's asses or has he been fucked in the ass? Will my twat be enough for this dude?
Dude looks like a lady
A.
A new lover is sort of like a used car; it may seem new to you but you just can never tell how many or what kind people have ridden in it before you got it. I have met a few well hung men who have also pitched for both teams simply because they feel their massive cocks are too precious to be limited to one gender. They want EVERYONE to worship their gigantic rods. If he treats you well and you use protection, just enjoy him for what he is, a well endowed, open minded amusement park ride. You can't change the past, so just enjoy the present (pun intended).
Q.
I've been seeing this man for the past few months and we laugh a lot and have a great time but I feel like I am being taken advantage of sometimes. I cook, drive to him ( he lives 30 miles away) . I have to pay sometimes when we go out as he is out of work. I guess I want to prove that not all girls are after a Man's money. I spend a lot on gas and even feed his cat. How can I get out of this routine without coming across as being mean?
Lovely Linda
A.
If you give too much people will take too much. Be nice but stop giving. See what happens. You will find out if he still wants to come around and see you, etc. If he asks you why the sudden change, tell him "I am exhausted from making such a big effort for us". You need to know the truth. If he really wants you, he will make a bigger effort and start being more generous. Keep in mind, there is one thing you can never change and that is biology; The sperm come to the egg; not the egg to the sperm.
Q.
I'm 20 years old with an 18 year old fiancee. Young, yes, but we have a lot of love for each other. Just recently she has been shying away from sex, she said she just didn't have the urge to… She had recently been put on the depo birth control shot. Which I figured (A) Sometimes people go through dry spells, and (B) Birth control can really play a toll on females. Well on top of the whole not having sex thing, she has become more stand-offish. She will fight with me about anything, and yell at me for the simplest of things. I don't know what is going on, I don't want to believe she's being unfaithful because I trust her. She was walking to grab a screw driver just now and turned around half way through the hall to grab her phone, maybe because she knew I would go through it, or was waiting for a friend to respond, I don't know the case.I really am fighting to hold on to what I have, but it seems like every time I try to better things, they become worse. And thoughts? Tips? Advice? What should I do? I'm really lost,
Hasty Hal
A.
You say you trust her yet she "knew" you would go through her mobile phone when it was unattended. This proves something is brewing between you two. First of all, she is only 18. She probably doesn't know her ass from her elbow yet. Her yelling at you and protecting her phone are signs that she is bored with the relationship, probably having an affair (this is pretty much expected from teen-agers). At your age (20 and 18) getting engaged may be a sweet gesture but you see now that the security you sought is quickly killing the love and passion you had. I suggest sitting her down and telling her you love her madly, still want to be romantically involved but are calling off the engagement. Tell her "why rush into things? I can see the pressure of being engaged is getting to both of us, there is no rush, we are both young, lets just love each other and forget the contract". If you don't have the balls to tell her to her face, write a nice letter to her, making sure you stress the fact you are not breaking up with her, just ridding the engagement which you feel has changed things. Stand by your decision and you will find out the truth; she will either crave you more or be relieved and move on to whatever it is that is distracting her so much. You need to know and this gesture will show you if she can live without you or not. Getting married, in my opinion, is old fashioned and unnecessary-unless immigration plays a role in it. Getting married before age 30 is just inviting chaos into your life.
Q.
I am 22 years old girl and had my first relationship with a guy who took my virginity and after few months he dumped me. I decided have another affair with a guy who made me pregnant. I am not in a good relationship and I wish to go back to my first boyfriend who too my cherry and ran. I try to find his whereabouts but only found that he's in jail and was sentenced for 15 years. I love him very much and I wish to have him back whenever he comes out of jail; am i right to go back to him? I miss him so badly and I have a 4 years old daughter I don't know if he will accept me. Help me.
Ditzy Donna
A.
You may THINK you "love him" but loving someone who doesn't want you is retarded. People tend to romanticize about their first ever lover. The one who took their virginity sometimes stays in our hearts and minds but this does not mean they are "the one". In fact it seldom ever works out being the one. He already dumped you once. It's over. It will never work out. Not only does he not want you (you can TELL when a man wants you, he makes it very clear by calling, texting, emailing, trying to find you like the sperm tries to find the egg) but he is in JAIL. Do you really think this is the best father figure for your daughter? You need to get busy as it sounds like you have way too much free time. Would you want your daughter to spend her time chasing a criminal who doesn't even want her? I doubt it. Set a good example for your kid by working hard and only loving men who love you (and I don't just mean sex you, I mean LOVE you). You are wasting your time even thinking about this idiot. Get busy, move on and the right man will come along. Men usually don't mind when a woman has a child already, especially a cute little daughter. It shows them you are capable of pushing out a healthy kid and either gives them hope they will get one out of you too or if they don't want any of their own, they will enjoy the fact you have one and won't be bothering them for a child.
Q.
I have been dating my girlfriend for almost a year now, and we have been having serious relationship issues because every time we have sex, she gets a yeast infection. Its to the point where she resents me so much for it, that we constantly fight, argue, and refrain from sex all together. She claims its my fault and I keep giving it to her, but I don't feel any symptoms and she is the only girl I have had this problem with. I work part time and I don't have medical insurance so I haven't had the chance to see a doctor either. I really love her, and I don't want to do anything stupid like cheat on her, but more importantly I don't want to lose her over this. What can I do?
Tortured Tommy
A.
This happens A LOT. Tell her to make sure she cuts back on eating sugar, carbs and avoid using any soaps on her snatch. Get some yeast infection cream, like Yeast Guard or something similar. Try and give it a rest for a few days to work it's magic (if you simply have to fuck, use the creme as lubrication). She also needs to wear cotton panties (no thongs) to bed so her crotch can breath. You can both eat acidophilus tablets and lots of natural yogurt to keep your bodies bacteria in check. Try using a condom next time, perhaps that will help. Tell her MANY women get itchy/irritated pussies after sex and it's not your fault that she too much cheese on her Taco.