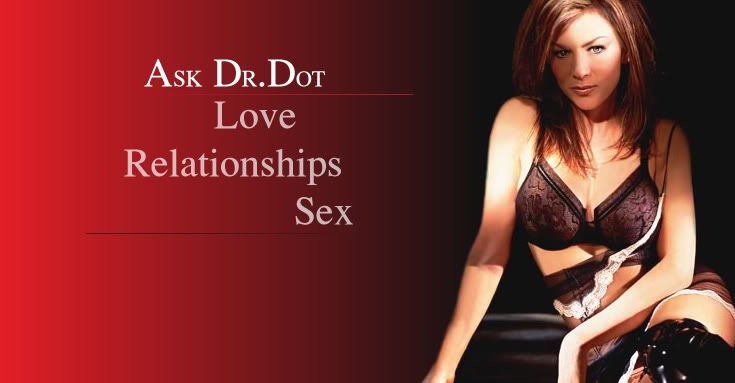 Please feel free to send me your questions anytime. I always change the names around, so no one except me, will know your dirty little secrets. Email them to me at: drdot@drdot.com
Q.
I meet (and shag) women easily but I've been having trouble getting
off with them lately….sometimes I do, but more often than not I concentrate so hard on
pleasing them that I end up having to finish myself off. Now, I don't mind it if I'm getting the
woman off but they seem to get frustrated that they can't bring me to cum, and eventually leave me.
What do I do?
Rage against their Machines
A.

Nice to hear you are putting out such efforts to please women. Try to avoid wanking
24 hours before you jump in bed with a lady. A nice goal would be to get to know one girl so
well that you know how and when she will end up cuming, then try to climax together.
Or make her cum, then have her suck on you (or your favorite means) until you shoot your load.
If they just came, I don't see why they give a fuck how or when you get yours.
Tell her it turns you on to wank off onto her breasts or at worst, tell her you spent so much
energy making her cum you are too tired to cross the finish
line. In the end, you will know it's the right girl when (1) you can still cum with her or after her (2) she doesn't fucking mind what you do, as long as she is with you .
Q.

I am currently seeing this 28year old – I'm 31. It's been 9 months. I know all his friends, his parents,
and he wants to see me, calls, etc..
We have had a few dramas – what beauties – but in the end we worked thru it and we keep moving forward.
We are both fireballs and a little stubborn – him more than me, but he is patient and forgiving. We are both 'catches'.
The problem: he is not verbal at all – but when I mention it, he does try to correct it. There is very little talk of future.
I asked him over dinner if he saw me in his future and he said "yes", and that he "doesn't waste time".
Is the non-verbal thing ok, if he is showing in other ways? Should I stay in this and keep flowing or change it by breaking up? Part of me thinks maybe he'll never be ready.
Ms. Stay or go
A.
You asked a question I would personally never, ever ask a man: "do you see us sharing a future?". That is a waste of breath
and shows them you are insecure and aiming at putting pressure on them. He said "yes, I don't waste time". This should have
made you feel really confident, but you are still questioning the relationship. You seem to be looking for a way out, in my opinion. Love doesn't come with insurance and all we have is today. You can not ensure a future with anyone.
You can get hit by a car; he could die of cancer. Just chill and enjoy the present with
this man who seems to really love you (you met his parents, friends, he verbalized seeing you in his future).
So what he isn't verbal? If you want verbal, date a woman.
Q.

I need another Dr. Dot pep talk.
Got rid of that first asswipe this past fall…while on the rebound found
another guy.
He suffers from depression, obsessive compulsive and ADD….One day he's hot,
the next cold.
One day he's in love with me, the next he totally abandons me. It's like a game
for him. He loves it when I come crying back. He's sent me into such a state of depression with all of his problems that I started antideperssants for the first time in my life.
I've done so much for this person….helped him and his kids out in so many
ways. I just can't go on with his split personalities (I truly think that's what
it is). It's wearing me out completely. He's starting to make me feel nuts. On a
side note….he can essentially be classifed in the 'white trash' catagory which
is something that I normally wouldn't fall for…however, I was hurting/rebound.
I'm having a hard time letting go…for no reason, yesterday, for the 10th time
in the past 3 months he dumped me again.
Scorned Suzy
A.

I too took anti depressants ONE time because
of a moody ex. I luckily got so ill off them that first time, I had to go to the emergency room
and get an iV.
He probably knows you are too good for him and rejects you over and over again.
This is a test for your soul: how much shit are you going to take? How much low will you go?
You need to pass the test and show fate that you love yourself enough to walk away from people
who treat you badly. If YOU don't love yourself, how do you expect anyone else to? Make
borders from now on;
limits to what you will and won't put up with and stand by them no matter what.
Do not call this wacky cunt back and ignore any attempts he makes to reach you
and you will pass the test and your confidence will start to soar, bit by bit. We ALLOW
people to treat us bad, so you can't blame them if you allow it.
Q.

I know this might sound selfish but please help me out, I have going out with this guy
and he decided to go back to his mother's child, the problem I can not get him out of
my mind is blowing me off so badly I can even concentrate, I can't just cope I even go
to the extent of driving pass near their house incase he I see him. I tried to get him off
my mind but it comes back so heavily on me that I cry uncontrollably. I thought time
was the best healer but it does work for me I'm just madly in love
Crazy in Luv
A.
It's not "selfish" it's foolish. "Madly in love", key word being MAD, as in crazy.
Love can make us crazy. Think with your head for a minute and you will see it's insane
to pine after someone who doesn't want you anymore.
It's over, he made his choice, you need to really just move on.
No one likes to be left; to lose, but it happens sometimes.
You can not make him come back; what will be, will be. Start taking good care of yourself; working out, eating healthy
and sleeping properly and keep as busy as you can so you can dump that needy feeling
the will surely turn off any new guys. Listen to as much Frank Zappa music as you
can get your hands on; he makes fun of love and heart break and what you really
need now, is a good laugh.

Q.

I just met someone 1 week in a half ago and he's really cool. The thing is that he said
he was single but admitted he had been seeing a girl like dating for over a year but
it wasn't exclusive. I don't believe him cause I know men will say anything to get with
a girl but I also give him the benefit of the doubt. He started text messaging me the
same day we met and then a few days later started to call me to chat and stuff but it
has been a week and change and he hasn't even asked me out. The weekend came
and he said nothing.
I have been unavailable when he asked to see me the other day just to say to say "hi",
of course cause i don't want be too available for him, and also because he asked to
see me for one minute to give me a kiss and a hug and I feel that I can get a kiss and
a hug from my grandma or Mom or dad and quite frankly don't feel that he has even
earned that much. If I accustom him to just do that he'll think I would settle for just that.
Hell probably think IM worth just a drive or a hello in front of my house!!lol. Anyway
I know its only been a week and a few days but he should be trying to get to know
me impress me wine and dine me if he's interested… Atleast go out for drinks.
He's always complimenting me and when he asked to see me the me other day
i brushed him off and a few min after we hung up he text messaged me telling me
he was outside and if it was possible to see me just for one min.. he appeared in
front of my house before i even answered anything lol… i haven't kissed him or
anything and i really like him but i don't know if he likes me that much or if its just that
he does have a relationship with that girl… I just don't know if I should continue
getting to know him or just drop this…?????
Shaky Sandra
A.

"a few min after we hung up he text messaged me telling me
he was outside and if it was possible to see me just for one min.. he appeared in
front of my house " ????
uh, can you stay "stalker"? He sounds like a pushy, creepy, lying
player to me, ew.