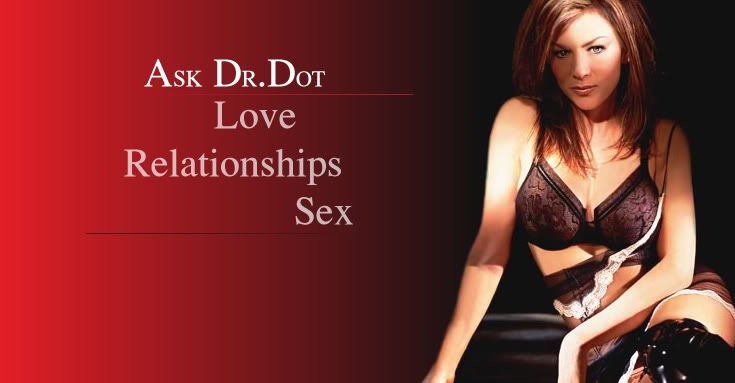 I have been writing "Ask Dr. Dot" for over 7 years now. My advice column appears in the Exberliner magazine, NY Rock.com and as "Calling Dr. Dot" in Penthouse forum. Feel free to email me (drdot@drdot.com) any questions you may have. I answer them free and always change the names around to protect your little secrets from everyone else.
Dr. Dot
Q.

I'm a young "forty something" lady. I've been invited to a concert where I may get
an opportunity to meet some famous dudes. (Aerosmith)
There are going to be tons of little skinny ass chicks(yes I'm jealous), and I just
want to look hot. Not disgusting, but ya know, it would be nice to be "kinda hot
for a forty year old." I don't have a clue what to wear. I don't want to be in
running shoes, like eww. Help.
Any pointers?
ps. You always look good.
Mary (from the bus, last tour, you know, leather?)

A.

Decide what your best assets are-
if they are your breasts, wear a low cut shirt in navy blue and a back pencil cut
skirt to the knees and fancy flip flops or those ballerina shoes in silver. If your
best asset is your tiny waist, wear a sun dress that has frills where your tiny
breast sit and again, simple but comfy shoes (high heels make women miserable after a few hours).
Go easy on the make up and hair, focus on your best feature on your face as well and
avoid red lip stick unless your skin and teeth are flawless. Use my secret weapon,
"Hypnotic Poison" and smile no matter what. When speaking, remember, quality, not
quantity works best. If you meet Steve, tell him Dr. Dot says hello. Also, keep in mind,
I am pretty sure all of the band are taken, as in, in a relationship, so there is no
need going through hell trying to lure one of them; just be comfortable in your own skin,
smell nice, smile and radiate confidence which is the sexiest thing of all.
ps. If you don't want to wear a skirt, you could wear Capri's. Make sure you use a shimmer
body lotion that makes skin look amazing.
Q.

I'm really puzzled by the fact that my boyfriend would rather eat me out than have sex.
We see each other a few days a week and have had sex only once in our 3 month relationship
everything else has been oral, him giving it to me; he never lets me give it to him. It's
like he's crazy about it, that's all he wants to do. What's going on? Is there something going on?
Suzy Cream Cheese
A.

If that's your only problem, consider yourself blessed. A man who only wants to lick your
pussy and wants nothing in return? Hold on tight to him. You have obviously seen his cock.
Could it be too small or soft? Maybe he's afraid of disappointing you. Maybe he is afraid
of getting you pregnant (read: Catholic). Many men don't trust condoms or even the pill due
to former bad experiences ("surprise" pregnancies). Perhaps you just taste so fucking good
he is addicted. Don't look a gift horse, or cunnilingus master in the mouth.
Q.
I am about to propose to the love of my life. Her brother recently died in
Iraq (why do we send away our young men to this country to far away land and
get them back in boxes; all a mother has left of her son is a fucking flag!).
She cries everyday. I feel helpless.
Should I propose soon….and that will give her some happiness to
take away the pain, or should I wait till everything has settled. I would
marry her Monday if I could, but I just want to get it right for her.
Mr. Right
A.

I would wait a couple weeks, maybe even a month until after the funeral,
and then propose to her.
You don't want your wedding anniversary to be too close to his death date.
If you do it too soon, she could think of it as just a romantic pity party.
If you wait too long, she could close her heart to love all together and
need a long time to completely open it again.
Q.

My ex is from Poland and went over there to see her…bout 5 months back anyway
we met at airport, had 4 hour journey back to her place was 7 am!! I was sooo tired
but she said "lets do it- do you have condom?" Well I did but feeling so tired I
just didn't want to…i.e. I'd of been shit lol. So we didn't and didn't have
opportunity to do it again. Anyway, I got back home and she ended it per text
message about month later. That got me thinking. I loved her; maybe if did make
love to her on that occasion our relationship would've lasted longer? Looking back
I kinda feel guilty over it. I am dumbfounded and gutted.
Mr. Pitiful

A.

I've had men visit me in the past from far away and I knew for sure they would fall
fast asleep due to the journey. So I let them be. I expect the same when I visit someone.
There should be some sort of sexual travel leeway period; an unofficial "leave me
alone for 24 hours please" phase. I think she just used that pathetic excuse to dump you.
If someone dumps you for that, they aren't even worth thinking about anymore.
Be grateful you are rid of that impatient wench.

Q.

Please cough up some advice for me ASAP. I have seriously not told ANYONE what I'm about
to tell you, but this issue is getting too big for me to ignore.
Basically, my problem is this: I'm in a serious relationship with a sweet but somewhat
insecure man. He is extremely concerned with making me happy in bed, and after some
awkward attempts at the beginning of our relationship, he worked really hard to find
out what I liked and is now able to satisfy me nine times out of ten. So it's not out
of sexual frustration that I've started having fantasies about women more and more recently.
It's something I've always done from time to time, but now for the first time I feel
like I might want to put it into practice. I really want to involve my
boyfriend in this, at least tell him how I've been feeling, but there's a problem: His
last girlfriend left him for a woman, and he's very touchy on the subject of girl-on-girl.
He's not against lesbians by any means, but he gets visibly uncomfortable whenever the
subject comes up, changing the topic of conversation, even changing the channel when two
women get friendly on TV. I care about him so much,
and I'm afraid my desires will chase him away. I don't know what to do. Can you help??

Potentially Bi in Harlem
A.

I would love to know if these lesbo fantasies started before or after you found out about
his ex dumping him for a dike. Be honest and think back. If you started lusting after
women AFTER he told you this, it's simple; you are playing with the forbidden fire.
You know it's taboo and now crave it madly. If not, and you have always wanted to taste
the bearded clam, but want to keep your man, you should just do this on your own time,
without telling him, as it's obviously not going to work. Give the guy a break. Put yourself
in his shoes. At all cost, try your best to hide all evidence of your lesbian adventures.
Asking him will only make him more insecure, jealous and you may end up losing him completely.
Q.

I am a proud lady who masturbates on a daily basis. My technique has become
refined in the most recent years and lately I have noticed something… When I
have a very good strong orgasm; my hearing is somewhat diminished. Similar to
when your ears start to go towards popping when going up an elevator. 5 minutes
later my hearing is back to normal. Is this because the blood is rushing from my
ears to my vagina?
Alotta Vagina
A.

Good news is, it is fairly normal. Bad news is, I'm gonna have to get all medical
on you to explain it properly. Take a deep breath and read on.
The ear popping is due to excessive dopamine-adrenalin conversion during orgasm while
your tissue and nerve around and in your ear lack of the relaxin/elastin Prostaglandin
to withhold the orgasmic contraction due to a sequence of adrenalin surges during or after orgasm.
Your auditory nerve is suddenly compressed by the tissue contraction and suffers from
the interruption of nutritional supply due to a sudden contraction of the arteries.
This results in nervous numbness. It can happen in your face, ears, nose, eyes, hands,
legs, pelvic area, or even your whole body. Whew. Who needs to hear anything after they
climax? I think its mother natures way of shutting everything else out so you can just
savor the spectacular moments during and after your orgasm.