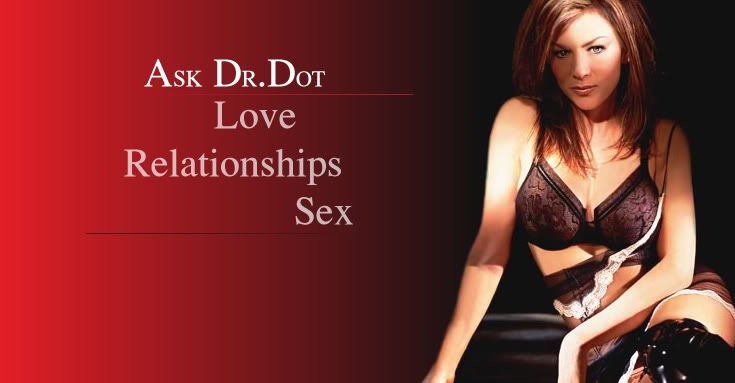 Please feel free to email me drdot@drdot.com with any questions you have, I always change the names around, so you're secrets are safe with me 😉

Q.


I found out the man I've been with for three years has been having a very intimate correspondence with a woman. Not sexually but emotionally. He knows I can open his email as we sometimes shared it for work. He deletes some mails but forgets to delete others. I know it's invasive but I just couldn't stop.
We live apart as he "loves his space". He is 36 and I am 45 but I look young for my age and he looks old for his age.
I'm very dependent on him, not only emotionally – my 16 year old son sees him as the male authority, we spend vacations all together, etc.
He's never seen this woman, only talks to her on the phone sometimes as I learned from his mails. 
I don't blame the woman as he made her believe he's single. She's married but obviously looking for changes in her life. I knew he liked to be surrounded by women – both virtually and in reality so I thought she was just one of his fan club but this is different. He's talking to her practically in the same way he talks to me.
I'm trying to ignore this and not tell him anything but it's torture. He sees something is wrong with me. He treats me so nice, we see each other almost daily and have sex only once a week ( I want it more!).
What's worse we've long planned to spend Christmas holidays with my son and his mother in the country where she lives. The woman lives in the same country.
Now my boyfriend tells me he wants to stay there longer to spend more time with his mother after we leave. What should I do? Cancel the trip altogether?
But my son wants to go and I have my own friends there that I wanted to see. Keep ignoring this and let him do whatever he wants to do? But I'm very emotional and I know I won't be able to feign indifference for a long time. it makes me really sick, I can't concentrate on anything and I know it damages my ties with my son and other people and even my work performance.

Cynthia the Couga
r
A.
The more you try to prevent this meeting from happening, the more exciting and important it will become for him. If you email her and tell her he is 'taken', you will loose him for good as he clearly likes and demands his freedom. If you confess that you have been following this affair per email, he will see you as a nosy, sneaky, jealous and clingy ball and chain. You two are not engaged, not married or even living together so neither of you can demand monogamy. Would you REALLY want to prevent him from doing something he really wants to do? You would then start to wonder if he is only with you because you intercepted and what would stop him from finding another female fan in the future? Don't mess with fate. If it is meant to be, it is meant to be. Like the boss says, everybody has a hungry heart. He may just be bored. You say he treats you and your son very well and takes care of you and even fucks your properly once a week. You can NOT expect more from a person.
You can't chain them physically down and put blinders on them ensuring they are focused only on you and why would one want that? 
Just remain calm, stay busy, work out, stay sexy and easy going, get ready for your trip and see how it unfolds. Either way you win. He will either find her boring in
person or irresistible and this would then set you free from the constant wondering and feeling of being 2ND in line. You can't change this situation, you can only change how you handle it. Perhaps SHE will find out he is taken and flip out making him appreciate you even more. Let him play his little game, you need to stay busy and enjoy your life, we only get one, this is not a dress rehearsal. 


Q.

I just starting seeing this amazing girl and we have great sex often, she is amazingly beautiful but a little insecure in bed not helped by the fact shitty ex bf told her she was a wank jump. I am really into giving her orgasms whenever possible but basically the head job discussion is completely OFF LIMITS. She has advised it's strictly Christmas or birthdays, but has made it clear she's just not into it. I've tried the denial method but fuck that, I love eating vagina. Part of me thinks who cares I'm with someone who likes me but I think maybe the denial is making me want it more. She is young (21) and I'm 34 which is fine, but she had a tough time in her teenage years.
Oral Otis


A.
You have "great sex often" with a girl who is more than ten years younger than you? Please count your blessings and stop whining. Eventually she will come around and let you lick her pussy on a more regular basis. She is 21, which is when most women are merely starting to figure out what they like and dislike in bed AND you just started seeing her, so please chill and be more patient. Ask her if she would try 69 with you, that way her pussy isn't the only focal point. If she still frowns upon it, oh well, you are still getting what most men crave; regular great sex with a younger woman. If you give up and leave her, the next girl may hate GIVING oral, then you will really be fucked!


Q.

I am a Premature ejaculator. I doubt I am the only one with this problem, but I suffer from this greatly. My last girlfriend cheated on me and when I confronted her she said "I had to fuck someone else, you don't satisfy me" since then, I haven't stated another relationship as I am feeling unworthy of any pussy. My penis is rather large, but I can't hold out for more than 2 minutes. Any advice you have for me would be a gift for me.
Quick Nick


A.

There are some tricks you can try (1) Wank off hours before you see your girl (2) Always use a condom so it doesn't feel so overwhelmingly amazing (3) Fuck standing up (ejaculation will take longer as your brain is slightly preoccupied keeping you standing & less blood will be in your cock; some has to be in the legs to keep you up and moving (4) Make her cum BEFORE you even start fucking her so she has less to complain about if you finish quickly once you're in there (5) Date a woman who could care less about sex (I KNOW there are many out there, I hear about them everyday from their frustrated partners).

Q.

Relatives keep giving winding me up about being a 36 year old single woman. I really can't take all of this nagging anymore. They harp on me every chance they get. The "I just haven't met Mr. Right" expression isn't helping anymore. Am I the only one who just doesn't care if I am dating or not? I have a cat so I am never lonely.
Sick of it All Sally

A.

At the next family gathering as soon as someone goes there, in a very loud pitch say "I am single because I refuse to take it up the ass, which is a deal breaker nowadays." See how that grabs them.

Q.

I love my wife of 18 yrs; everything used to be OK. I had a drinking problem, and I rarely got sex even though I wanted it. I tried EVERYTHING to turn her on.
She's the receiver; never makes any effort to instigate or give sexual pleasure. I quit drinking a year ago and realized how controlling she is. We would be at a party, I would say "I'm going to go talk to whoever" & she would grab my shirt and tell me "NO, stay here, have a drink" Family members would put me down, yet she never said anything, etc. She yells at me for no reason/snapping. I told her it gives me chest pain, yet she continues.
I let her control the bills; she has ruined my credit!
All this was OK till I started standing up for myself. We Almost divorced 3 times this year, but avoided it by me giving in and trying "once more". Each time we reconciled she would give me all the sex I wanted (for awhile). Then started snapping at me again. I really cant afford to leave her, I don't make enough to live by myself and I love her but I WANT sex, BTW, she Loves me eating her out, but wont give me head where I get to come in her mouth, I told her I really want that- ( not happening ) when we do have sex shes never into it, she just tells me to " hurry" I feel I'm missing out on a lot. I don't know what to do. She says she Loves me more than anything- hhhmmmm
Suffocated Steve

A.
In my opinion, if she "loves you more than anything" she would let you cum in her mouth, stop bitching at you and smack the shit out of people who put you down. She is probably so used to you being drunk and apathetic that she doesn't really know the real you anymore and can't understand why you can't be ordered around anymore. If you are going to stay with her, you need to write her a letter so you can get your real thoughts out on paper without her having the chance to interrupt or snap at you while doing so. Tell her you are sorry for being drunk for so many years, but you are back and it is time for you to make up for loss time and take charge of your bills, household, spunk and life in general. She can either relax and enjoy the new your or move the fuck on and spend some other wimps money. Words don't mean anything. Anyone can SAY "I love you" but their actions reveal the truth of the matter. I would personally rather be broke than live with someone who sucks in bed, spends all my money and nags at me. If you do leave her, avoid getting married again, the same fucking thing will happen all over again. Like Chris Rock says "if you like fucking, don't get married".