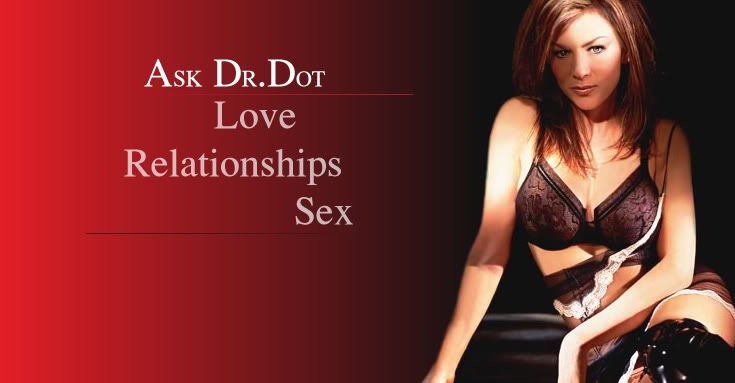 Feel free to email me your questions. Don't be shy, I ALWAYS change senders name to keep their dirty little secrets private:
drdot@drdot.com
x

Q.

I'm four months pregnant, happy and healthy. Thing is, I have trouble getting & staying wet
before and during sex. I've tried lubes and they help but they're so greasy and it turns my
boyfriend off when I apply lube. He thinks he does not arouse me because I'm not getting
wet like I used to. I am turned on but maybe pregnancy makes me dry. He always gives me
oral before we have sex to get me wet but I always get dry before we finish. It's frustrating me.
Please let me know of any products that aren't greasy, yet safe or if you know of any techniques to help us.
Knocked up & Frisky

A.

Perhaps your subconscious is drying out your snatch; a little voice in the back of your head
suggesting that having sex while pregnant is bad. Find that little voice and gag it. A lot of
women get extra horny while pregnant; the combo of having bigger breasts, extra hormones and
not having to worry about getting pregnant usually sets them on fire. If you are having problems
already at 4 months, it may get worse so you need to make it clear, verbally, to your BF that he does turn you on and you need his cock or you'll go crazy. Get some "K-Y natural feeling liquid personal lubricant" and after he do his best orally, and you start to dry up, have him playfully drizzle some lube on your pussy; make it fun, tell him "pour some lube on my thirsty twat babe". Rather than trying to ignore the situation, bring it right out into the open and make it fun. Give him plenty of head to keep him happy and everything should be fine.


Q.

I am 23 years old and have been dating an 18-year-old girl for a few months. I popped her
cherry the first month we were together and since then she has gone from clingy, to
psycho. I used to call her and court her, but now she doesn't give me the chance. She
is all over me like a rash to the point where I want out. When I try to pull away, she throws
a massive fit and threatens to kill herself. She cries, pulls her hair out and even cuts herself.
If I leave and she does kill herself, I will have to live with that guilt forever. If I stay, I am
suffocated in every way. She makes me feel obligated to stay with her forever because I
took her virginity.
Poppa Cherry
A.

This emotional blackmail has got to stop. Find
a way to contact her parents/best friend/relative that she admires
and listens to most and arrange a private meeting. Explain the situation
and tell them she needs help and you need an exit. Write her a letter and
tell her you care about her but want to be single to concentrate on your life,
as most 23 year olds (and 18 year olds!) do. If you feel that isn't strong enough,
tell her you have doubts about your sexuality and have met a guy that you have
feelings for. Telling her you are gay is an easy way out. You can't argue with
that. Then stop all contact with her as any form of communication with just lead her
on and prolong the agony for both of you. Lesson learned, popping cherries is fun,
but seldom worth the drama that usually comes with it.

Q.
I meet (and bed) women easily but I've been having trouble getting
off with them lately. I concentrate so hard on pleasing them that I end up having
to finish myself off. Now, I don't mind it if I'm getting the woman off but they seem to get frustrated that they can't bring me to cum, and eventually leave me. Help.
Rage against her Machine

A.

Nice to hear you are putting out such efforts to please women. Try to avoid wanking
24 hours before you jump in bed with a lady. A nice goal would be to get to know one girl so
well that you know how and when she will end up cuming, then try to climax together.
Or make her cum, and then have her suck on you (or your favorite means) until you shoot your load.
If they just came, I don't see why they give a fuck how or when you get yours.
Tell her it turns you on to wank off onto her breasts or at worst, tell her you spent so much
energy making her cum you are too tired to cross the finish line. In the end, you will know it's the
right girl when (1) you can still cum with her or after her (2) she doesn't fucking mind what you do, as long as she is with you.
Q.

I'm in a relationship, all is good. BUT, my girlfriend has been out of town for about 2 months and my ex girlfriend, who I chat with online periodically asked me over for tea. Well, I had a good meal and ended up getting rid of a nagging 2-month dry spell. I really don't have feelings for her in a relationship kind of sense, I was just sexually frustrated and my ex was in for the kill from the get go. I guess I just let the wrong "head," think for me. In the morning we had another round. I've never cheated before and don't intend on doing it again as I feel like a complete cunt. I doubt she would understand but oh the guilt. Should I tell her?

Randy Ralf
A.
Do NOT confess your infidelity to your girlfriend. It may free you of guilty feelings but it will
crush her and ruin the relationship. Everyone makes mistakes. Hopefully it
was a safe-sex kind of mistake but if not, go have yourself checked out and use condoms
for a while with your girlfriend so you don't harm her (tell her you have an urinary tract infection).
Every one gets "super horny" and you aren't married, so you won't burn in hell, you will just have a guilty complex for a while which could in turn, make you more grateful for your girlfriends love which may even enhance your relationship. Twisted, I know, but you are not the first person to have a fling and you won't be the last. Just keep it to yourself no matter what as what one doesn't know, won't hurt them (at least mentally/emotionally).